Good news everyone, price lists are finally here!
Every AWH trader now gets their own configurable AWH price list.
Here's an example:
https://arsonwarehouse.com/prices/ladymeba
Follow these simple steps to enable your price list:
1. Create your AWH account if you haven't already (
www.arsonwarehouse.com
)
2. Go to "Trading" from the side bar and then "Price list"
3. Select some item categories that you want to be visible on your price list (and optionally re-order the categories)
4. Share your price list link with your suppliers (copy it from the URL bar).
(FAQ below the image)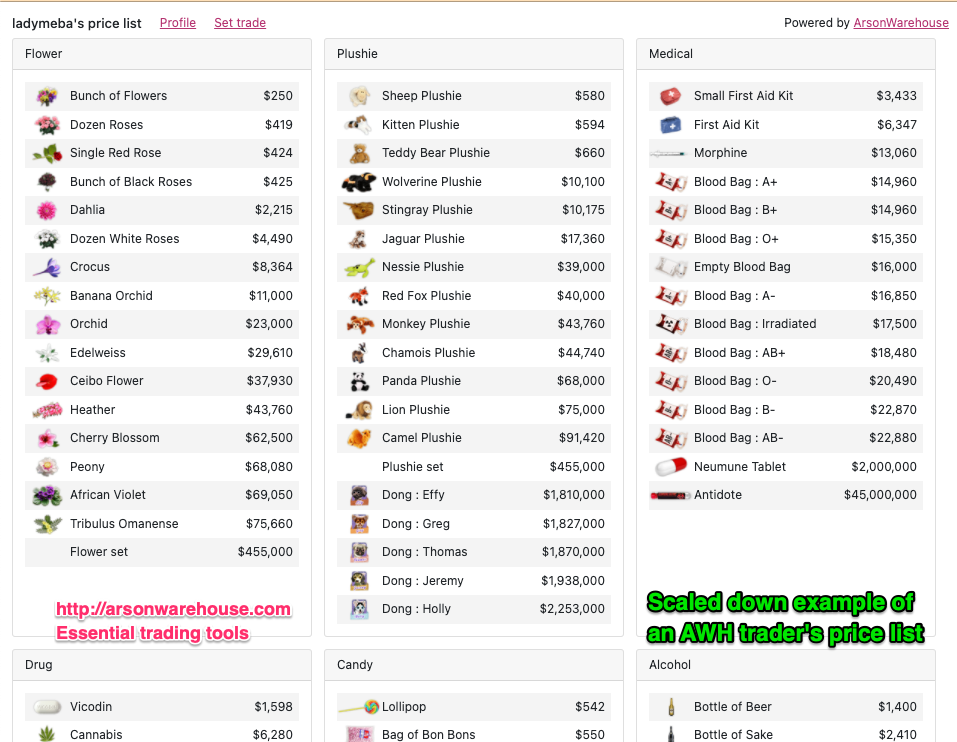 FAQ:

What happens if I use auto-updating prices?

If you update your prices through an auto-updating spreadsheet (or by any other means using the AWH API), you don't need to do anything else. Your price list will always be current and you can safely link your suppliers to it.
Just be aware that if you update a price manually, it will be overwritten by your automated script whenever it runs next. And that's a good thing, you want your prices to continue auto-updating.
Can is use the price list with my free subscription?

Yes, this feature it for everyone, free and paid. In fact, the added value is best for free AWH accounts, because they usually don't have a public spreadsheet. So you can link to this AWH price list from your forum thread instead and profit from the added exposure.
I already have a spreadsheet, why would I use this?

The AWH price list aims to offer a better experience in terms of speed and usability than most spreadsheets do. We take care to make it load as fast as possible and be easy to navigate. In the future, it isn't unlikely that we'll add a quick search filter and maybe even an inline calculator for your suppliers. You can get all those things in a spreadsheet, sure, but it comes free with AWH.
Aside from that, it's a 100% optional feature that you can choose to ignore completely if you're satisfied with your current spreadsheet.
Why is there an ad on my price list?

The advertisement in the top row of your price list serves to keep AWH going for now and the foreseeable future. AWH is a fun side project of a RL web developer and the (time) investment is substantial. Besides covering the running costs, if I'm totally honest with you, I'd very much like some sort of return on investment for the time and resources spent, even if just a tiny amount through ads. It's what keeps me motivated to maintain the leading position of AWH within the trading community.
Can you remove the ad for me since I'm on the premium subscription?

I really appreciate you being a paid customer (paying in-game Xanax for the service)! However, I have to treat paying customers the same as non-paying ones because of torn's RMT rules. Removing ads based on in-game payments may possibly
be considered RMT, and I'm not willing to risk losing it all because of that.
What do you plan on adding next?
These are the features that come to mind, not in any particular order and, as always, without any guarantees they'll ever arrive:
Customisable color bulk badges (so different colors for say 100, 1000 and 10000).
Filtering so your suppliers can easily check the price of a specific item.
In-category item sorting based on name, price or custom
Calculator for your supplies so they'll know exactly what they'll get without having to set the actual trade.
Maybe even comparison between traders for getting the best price (let me know what you think of this one!)
Enjoy, and as always, I appreciate any and all feedback!