I was reading
Pauls achievement thread
today and thought it was a great idea to reflect on everything I've achieved since I started actively and competitively playing in 2018 and share it with those of you that care... or don't...
Don't worry I got his permission to copy his thread.
Backstory, I discovered Torn many moons ago in my school days and set up an account and played as any semi-active headless 14 y/o noob would. Not really having a clue what to do and not really accomplishing much. Luckily my ambitious young self back then had the wisdom to pester older players for some advice and that's what I got. I was advised to save my money in the bank and to invest in a few stock BBs. Suffice to say that was some of the best advice I could have got because upon my eventual return I was sat on a nice little nest egg of 9-10b.
Cut to Aug 2018 where (IRL) I have finished education and landed myself in a nice comfy office job. To which I rediscover Torn properly and how chilled and easy it is to play with a 9-5 adult life... and that's where the addiction began.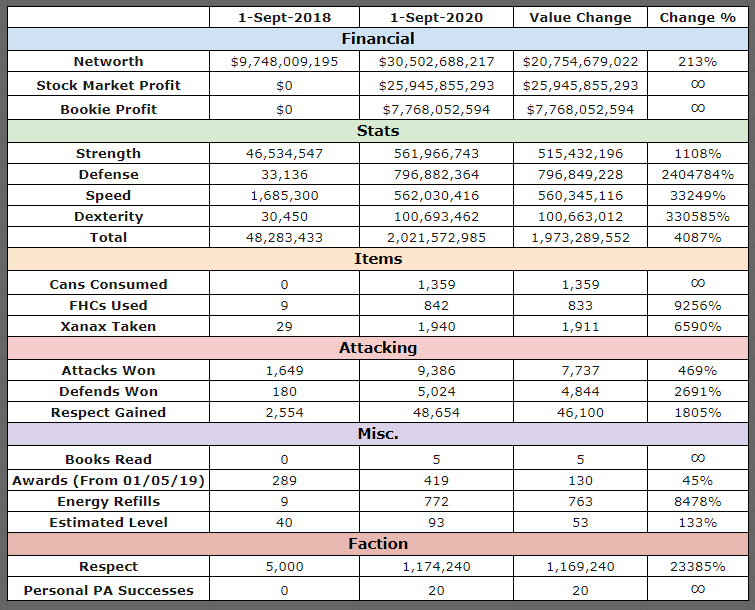 To reiterate the point Paul made in his thread, it is most certainly possible for older more inactive players or even new players to get into the game and be competitive.
I still have a ton of goals ahead of me and I don't plan on slowing down any time soon but I am very pleased with the progress I have made in my time here.
Next goals
:
Reach SE range
$100b NW
Own a GAK
500 awards
Continue building faction to top HOF status