Hello, Eggplant trader here!
Disclaimer: This thread used to be my
trading thread
. I have stopped trading on July 22nd 2020 and will be keeping this forum for
stocks
.
All
reviews until page 27 were for my trading.
Mug free.
Fast.

Selling TGP BB - 4 left
Selling WSSB BB - 5 left
Selling bounty slots - 500K per bounty slot
PM or set trade :)
--------------------------------------------------------------------------------------------------------------------------
Hey! So I have decided to
stop
trading and use the extra time to focus on myself, read books, go back to sports, and improve my life in general.
Trading felt more like a
chore
than fun in the end sadly.
I am still in Torn though, and I have had the utmost
pleasure
being your trader :)
If you have any questions, want to chat, or anything at all, I would love to still
keep in touch
:)
Also If ever you would need to
sell any expensive items
such like SE or casino pass, celsium and such, please give me a shout, I will try to help you out with that :) Love <3
HOF reviews:
Before I met this guy my life had no meaning I would walk the streets wishing for some greater purpose... for something, anything that would change the mundane empty existence I lead. Now after just a few trades I've got a reason to live again, my pee pee grew 3 inches (now I've got 4 inches) and I'm covered in maple syrup on a daily basis. This guy is dope af and he doesn't mug or nothing, honest as a motherf**cker and that's the eggplant guarantee!


best prices, fast trades, friendly... seems to like eggplants.
I still follow a bunch of traders but almost don't check sheets because he has the best prices always

3-

Tiffinityrose

[

1785484

]


Wonderful trader. The best trading experience I've had in Torn. True to the eggplant guarantee and polite as can be! I'll be back every time I have a trade!

4-
Pervalidus[2066614]
Dude hasn't been punched in the eggplant for ages cause his prices can't be beat. Trading with him is smoother than butter. Why would you even want anyone else?
5- 0rganicMechanic[2504109]
This has been my go to guy for a couple months now. I have zero complaints. Still no mugs. Still great, competitive pricing. Still very Canadian.
6-
DarthRoco[2533178]

Hand Down THE BEST TRADER OUT THERE. If you guys want a trader with a personality and friendly attitude this is your guy!
7-
Anis[2100412]

I played with his eggplant and he gave me a better price than every other trader out there. 10/10 would use again. R+
8- WasteItOnMe [1044045]

Highly Canadian Player, he knows how to make a client happy. He even gave me some pancakes with REAL MAPLE SYRUP, not that cheap bullshit you see on market stands.
9-
LINDI [2319655]
HE IS FAST AS f**k DON'T KNOW IF HE IS LIKE THAT IN THE BED THOO (nice prices and fast)
(Misdir3kt: we will never know, we will never know)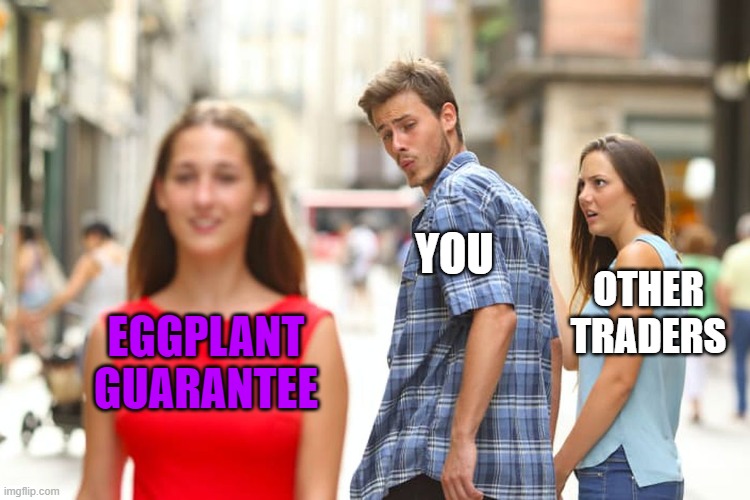 Hello everyone!
You need to know 3 things about me:
1- I am from Canada so I am polite, I say sorry too much and I like poutine.
2- My prices are the best and if they're not I will punch my eggplant - more on that if you scroll down.
3- I like long walks on the beach
4- I am near my pc all day, so just start a trade and I will be with you right away!
Here is my price list. check it. check it now. CHECK IT.
from there you can initiate trades - that's a real nice feature.
If we trade, I will provide a receipt cuz I'm cool like that.
Q&A:
What in the world is the eggplant guarantee

?

The eggplant guarantee is very simple. If your trader has higher prices then me, I will punch myself in the [Insert eggplant emoji here].
At this point we get it - mug free trades, fast trades, heckin' safe trades - who really cares as long as you can have the

eggplant guarantee?!




Wait wait wait. did you say something about GETTING 1 MILLION$ FOR FREE? I don't believe you

Woah woah I never lie! Yes sir! You can win

1 million$

If you do the following steps

1- refer a friend to my trading shop - 250k$ bonus
2- This referred friend trades more then 100 million with me - 750k$ bonus

repeat with more friends!


My trader has better prices! Why would I trade with you you maple syrup freak?
Due to the eggplant guarantee, this is highly unlikely - Show me a price list of your trader, and if it's true i will punch myself in the eggplant. My prices are set to a 1% profit margin in general. My life is a bit busy right now and I will not be able to change prices anymore.
When are you available for trades?
16pm TCT - 12am TCT
Misdir3kt, I am a potato. Can you show me some guides that will help me to be an educated potato in Torn?
Sure my friend, here you go.
1-
Baldr's Basic Advice | Tutorials & Guides | TORN
2
-
Andyman's Income Guide | Tutorials & Guides | TORN
How can I get plushies and flowers?

Senpai Iribuya has made an amazing visual guide on flying to get plushies and flowers - here is the link :)
https://www.torn.com/forums.php#!p=threads&f=61&t=16043994
Do you need a good graphic designer? Yes he is the one who made my profile picture and banner.
Visit this forum - he is an amazing guy and will make you the best stuff :)
https://www.torn.com/forums.php#/p=threads&f=23&t=16162385&b=0&a=0&start=40
Love you, you good person you.
Misdir3kt