Price - 50 cents
Saturday, Feb 6, 2016
in Torn City
An Illustrated Weekly Newspaper
Edited & Published in Torn City
An Illustrate
Faction Bio - Evolution
Back to the hall of fame where we will see what we can learn about Evolution.
Evolution was created some time in October 2012, I was unable to narrow it down to a particular day. It was the resulting faction from a merge between two HOF factions, Bad Ass Mother F**ckers (BAMF) and Random Acts Of Violence (RAoV). SlickRick [654393] and JimmyJames [581165] ran BAMF, Todd [63384] and Scott [97570] ran RAoV. Puscifer [61736] and JimmyJames then took the main lead of the newly formed Evolution. The merger took over one year to finalize and complete, and happened largely because BMAF and RAoV were good friends even before the merger, and the two factions complimented each other quite well. RAoV had the stat monsters and BAMF had the chaining stamina, and these are two ingredients you need to make a chaining machine; chainers that never stop, and big hitters too...
Me me me - The almost find!
 The weeks seem to be flying by recently, and I barely have time to reflect on what went on in the week. So for a little fun and enjoyment I thought I would share with you fine, and not so fine, citizens of Torn what I have been doing in our city as of late. 

My time on Torn has, unfortunately, been rather limited lately and my events page is starting to look like this more and more regularly, which is worrying: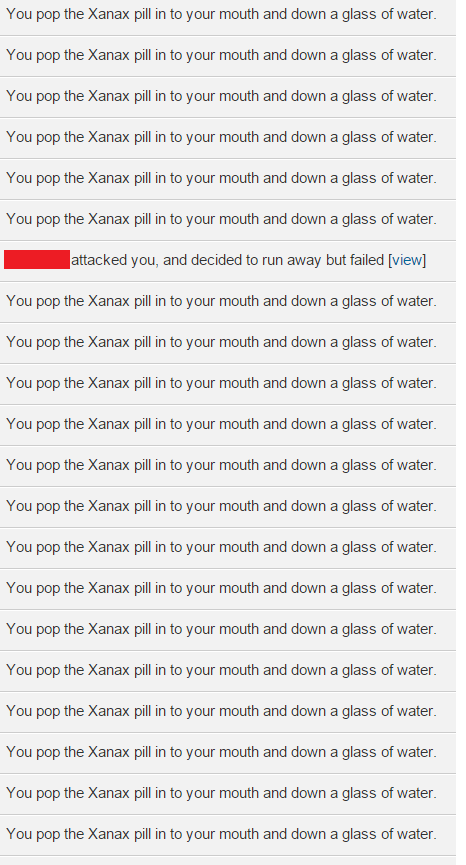 Sometimes I see the "Events" tab highlighted with one new event only to find an event from 5-7 hours ago telling me I had taken an Xanax. However, if you looked closely at the picture above, the more observant among you will have noticed the red box in the middle of all those Xanax events, where someone tried to attack me. After dealing 498 damage and receiving 2371 damage, thought to themselves "I just might not win this attack". It happens to the best of us; the amount of times I...
An interview with Pand0ra
Report by
Gholden
on 15/11/15 (2 months ago)
As an editor and editing correspondent, I rarely get an opportunity to write some headline story. Today that changed, and I received the assignment to interview a member of our community: Pand0ra [132296]. I headed out of the office to the Headquarters of the JFK faction where Pand0ra had agreed to meet me and talk about her experiences in this city.
We chatted for a few hours about her humble beginnings with the faction Impact. After running a faction of her own called Chaptastic, she decided to merge with Rotton Souls and created Vae Victis (VV) which was co-lead with Z_junior [247674]. Shortly after, they both decided to merge with JFK which was being ran by Nota [68062]. This has been her home ever since, spending almost 9 years as part of JFK.
Reaching level 100 was one of her most significant achievements, but she is proud of many others. She has been part of a faction at the top of the HOF, became staff and Admin, and even has her own collectible! (Pand0ras Box). Most importantly, she has met many people that have been her fr...