Price - 50 cents
Tuesday, Dec 1, 2015
in Torn City
An Illustrated Weekly Newspaper
Edited & Published in Torn City
An Illustrate
An interview with Pand0ra
Report by
Gholden
on 15/11/15 (16 days ago)
As an editor and editing correspondent, I rarely get an opportunity to write some headline story. Today that changed, and I received the assignment to interview a member of our community: Pand0ra [132296]. I headed out of the office to the Headquarters of the JFK faction where Pand0ra had agreed to meet me and talk about her experiences in this city.
We chatted for a few hours about her humble beginnings with the faction Impact. After running a faction of her own called Chaptastic, she decided to merge with Rotton Souls and created Vae Victis (VV) which was co-lead with Z_junior [247674]. Shortly after, they both decided to merge with JFK which was being ran by Nota [68062]. This has been her home ever since, spending almost 9 years as part of JFK.
Reaching level 100 was one of her most significant achievements, but she is proud of many others. She has been part of a faction at the top of the HOF, became staff and Admin, and even has her own collectible! (Pand0ras Box). Most importantly, she has met many people that have been her fr...
Faction Bio - TuS
Our attention turns to a faction that caught a lot of peoples eyes and had high expectation as they were rising through the ranks, The UnLeashed Sykoz (TuS).
TuS was started a few years back by iiNsane [1006280]. He said the name was chosen because they want(ed) to be viewed as ruthless, although to this day I do not what "Sykoz" means. 
At present, whilst waiting for the factions updates, TuS war every couple of month,  but it used to be the opposite, training every couple of months and chaining the rest of the time.
As TuS are one of the "New generation factions", I find that their war history is quite interesting. Although they have not been around as long as other factions they have gained just as much respect as many of the HOF factions. Although TuS themselves are a HOF faction the speed at which they were able to break into HOF is a nice achievement, and are now respected in HOF.
TuS's first major war was against Way Of The Warrior, which many will know that BodyBagger [99177] u...
Anonymous is back!
I often find myself clicking away in the city, checking on how the markets, stocks and other parts of Torn are doing. Most days go the same, I'll find a sheep plushie, browse things I can't afford...I'm living the dream! 
So you can imagine my surprise when I decide to click, hopefully, on the missions link in an attempt to spice up my daily Torn routine. I was greeted with something I have never seen before.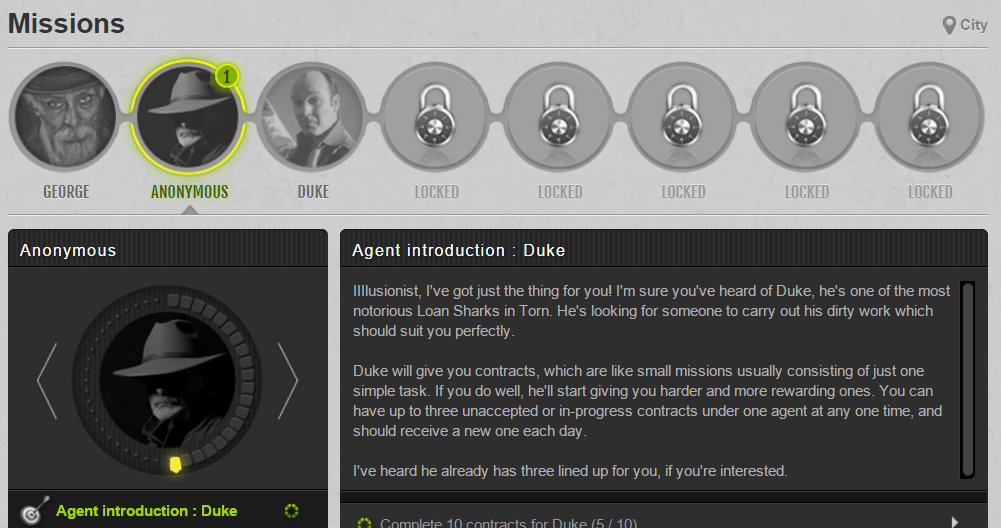 Yep...stop drooling; missions have appeared on the horizon! Don't get overexcited yet though, they have just entered the testing phase. But based on what this reporter has seen so far, everything looks rather impressive. 

There is limited information at the moment as it is just in the testing phase and the missions available are limited, probably to ensure mission mechanics are functioning as expected. However, here are some of my initial th...